Skip to Content
Integrated Therapeutic Stretching™ (I.T.S)
Integrated Therapeutic Stretching™ (I.T.S)
Therapeutic Stretching on Long Island
Have you ever seen your dog or cat get up and start to move without stretching first? We think of ourselves as the most advanced creatures on the planet, and yet we continually ignore this most basic of needs.
Do you notice that you feel compelled to stretch when you wake up and again when you're tired at the end of the day? This instinctive urge is nature's way of telling you that you need to move more oxygen around your body and yet we spend our days sitting at our desks in the same contracted position — barely moving.
When we don't stretch regularly, we overuse, fatigue, shorten and tighten our muscles and the connecting tissues. This leads to decreased circulation, reduced flexibility, and an increased risk of injury or disease. It's time we stopped being so preoccupied with our daily lives and started tuning in to what our bodies are trying to tell us instead.
COVID-19 Safety Protocols
While many things have changed, one thing has remained the same: my commitment to your safety and health. Welcoming, safeguarding, and taking care of others is at the very heart of what I do and who I am.
Marjorie Brook offers indoor and outdoor appointments. All patients are required to wear a mask and use the hand-hygiene station upon arrival. Marjorie takes your health seriously and has a list of safety protocols that are in place to keep you healthy.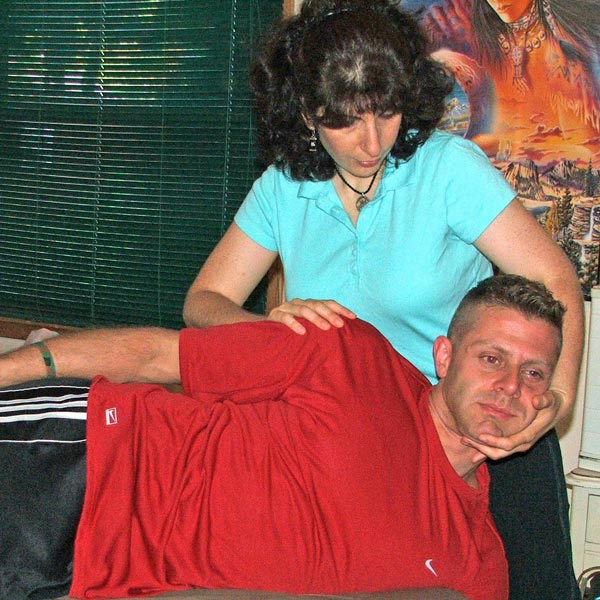 Stretching & the Aging Process
Staying flexible as we age is something we all need to work towards. After all, loss of mobility doesn't happen overnight — it's a slow process that creeps up on you. Many of us don't recognize this until our bodies become imbalanced and compensation sets in, and we begin to suffer significant pain or discomfort. I believe it's vital that we become actively engaged in maintaining our flexibility through daily stretching. Now is the time to start helping your body perform as it was designed to, so that it can continue to perform over time.
There's a common belief that cardiovascular workouts and strength training is all the body needs to stay in shape. And there's an even bigger misconception that stretching can hinder athletic performance. The truth is your body cannot function properly without flexibility training. Stretching is a workout in itself and is indispensable.
Frank's Integrated Therapeutic Stretching Testimonial
Integrated Therapeutic Stretching™ (I.T.S)
Integrated Therapeutic Stretching™ (I.T.S) is one of the most effective stretching therapies because its goal is to work with your body to figure out and correct what's wrong.
The objective of Integrated Therapeutic Stretching™ (I.T.S) is to empower YOU with the tools to re-educate and maintain a balanced physiological and emotional system.
With ITS™:
You will learn how to use your body the way it was designed to be used
You will discover the real cause of your pain or discomfort
You will have the ability to end and prevent pain from reoccurring
Integrated Therapeutic Stretching™ (I.T.S) Techniques
Integrated Therapeutic Stretching™ (I.T.S) techniques can take as little as 10 minutes, but provides multiple benefits, including:
Improved posture, circulation, and range of motion
Accelerated recovery from injury
Reduced muscle tension
Relief from muscle soreness, strains, or spasms
Improved athletic performance
Enhanced ability to relax
Balance promoted throughout the body
Integrated Therapeutic Stretching™ (I.T.S) Benefits
Integrated Therapeutic Stretching™ (I.T.S) is effective in the treatment of a range of physical disorders. These include:
Ankle sprains
Arthritis
Calf-muscle pull
Carpal Tunnel Syndrome
Chronic lower back pain
Fibromyalgia
Golfers elbow
Headaches
Knee & hip replacement
Multiple Sclerosis
Parkinson's Disease
Plantar Fasciitis and heel spurs
Poor circulation
Pre- & post-surgery
Rotator-cuff Tendonitis
Scleroderma
Scoliosis
Spine injuries
Sports injuries
Tennis Elbow
Thigh & hamstring pulls
Thoracic Outlet Syndrome
Whiplash injuries
What Marjorie's Clients Have Been Saying
"I am so grateful to have found Marjorie! She has helped me and my family so much. I had no idea how much adhesive tissue I had accumulated on my ribcage from a childhood of playing soccer until Marjorie pointed it out and began working her magic. I was struggling with many unstable vertebrae in my back that needed constant correction to avoid pain (aka throwing my back out). Marjorie's work releasing the damaged tissue across my ribs and stomach helped tremendously. My back has been more stable than I ever thought possible. She is one of a kind."
"Thank God I found Marjorie! 3 months after having a total knee replacement, I developed nerve damage under the knee which was operated on. Marjorie was able to get me to 120 degrees of movement in my knee and take the nerve pain away. She is the best. She does fantastic work on my scar to the point I hardly notice it. She is a total pleasure to work with. Five stars aren't enough as far as I'm concerned"
"Marjorie is a miracle worker. Her ability to work with scar tissue has saved me from having a third surgery on capsular contracture. She is so knowledgeable on how scar tissue impacts your entire body and she will have you feeling like you have a new body after 1 session. I'm so grateful to have found her and her practice. She has also introduced me to cupping for my upper back stiffness and the only way I can describe it is absolutely invigorating. I am breathing and moving in a way I didn't know was possible thanks to Marjorie"
"Marjorie Brook's a wonderful massage therapist, extremely knowledgeable about how to improve the lack of skin elasticity secondary to radiation therapy, skillful in post-operative scar tissue release as well as improving muscle injury. She uses various techniques in order to improve long term range of motion for clients suffering from these issues. Marjorie has improved mobility thus improving my quality of life"
"My experience with Marjorie Brook as both a massage therapist & a caring individual has been life changing. I had surgery for a malignant melanoma 38 years ago leaving me with a massive scar which restricted blood flow & range of motion to my foot& ankle. Her expertise as a massage therapist has changed the physiology of my foot & ankle."
"Marjorie's work is life changing, I highly recommend her to everyone who has had any type of surgery. I have tried many different kinds of therapies to heal from my emergency surgery, and was still struggling with everyday activities. After just one session the area around the surgery is moving freely, pain is gone, I feel more like myself and am able to do activities that were not possible for me before. I am amazed at the amount of healing just from one session, it is a miracle. Additionally, Marjorie is very professional, understanding and kind. I am very grateful for her amazing…
"Marjorie's work is life changing, I highly recommend her to everyone who has had any type of surgery. I have tried many different kinds of therapies to heal from my emergency surgery, and was still struggling with everyday activities. After just one session the area around the surgery is moving freely, pain is gone, I feel more like myself and am able to do activities that were not possible for me before. I am amazed at the amount of healing just from one session, it is a miracle. Additionally, Marjorie is very professional, understanding and kind. I am very grateful for her amazing work."
"I have been going to Marjorie for Scar Tissue Release therapy for the past 6 months for a deep, indented scar. She has been able to achieve what many doctors and surgeries have not – the scar is so much smoother and flatter. She took a scar that was "stuck" in place and made it movable and flexible again. It's amazing what she understands about the underlying tissues of my skin. I am so glad to have found her!"
"I started working with Marjorie after researching alternatives to standard physical therapy /surgery for a chronic shoulder problem. After Marjorie performed her initial assessment she not only solved the issue with my shoulder and give me a range of motion I had not had in a long time, but she also took the time to explain to me that it is not just the shoulder that is involved but a bunch of other muscles that support / assist the shoulder. As she stretched the muscles she also took the time to teach me stretches to do at home for my shoulder. I have returned to see Marjorie several…
"I started working with Marjorie after researching alternatives to standard physical therapy /surgery for a chronic shoulder problem. After Marjorie performed her initial assessment she not only solved the issue with my shoulder and give me a range of motion I had not had in a long time, but she also took the time to explain to me that it is not just the shoulder that is involved but a bunch of other muscles that support / assist the shoulder. As she stretched the muscles she also took the time to teach me stretches to do at home for my shoulder. I have returned to see Marjorie several times for adjustments and tweaks for other issues and am amazed every time I leave her office at how she manages to improve my range of motion in just one visit and keeps improving it each time I see her. Marjorie is the ultimate professional who takes the time to explain everything she does and if I asked, she would explain how the muscle she is stretching is involved."
"She's the best massage therapist I've ever been to."
"I am constantly amazed by Marjorie's incredible ability to pinpoint and alleviate pain and fatigue. As a martial arts practitioner, I have come to depend on regular visits to soothe injuries."
"We have been receiving massage from Marjorie for over five years now. She is like a friend – however, this friend has magical hands and manages to make us feel as if there isn't a care in the world. This is one feeling that we never want to do without."
Request an Appointment
Address
Wantagh, NY 11793
By Appointment Only
Phone
516-409-1240
Hours of Operation
Monday: 9:30 AM – 7:00 PM
Tuesday: 9:30 AM – 7:00 PM
Wednesday: 9:30 AM – 7:00 PM
Thursday: 9:30 AM – 7:00 PM
Friday: 9:30 AM – 7:00 PM
Schedule Your Appointment