Skip to Content
Find Relief with Massage Therapy on Long Island, NY
It can be challenging to find relief from your chronic pain. Maybe you've tried managing the discomfort with medicine or shots prescribed by your doctor. Perhaps you've used at-home exercises or tried alternative medicine like acupuncture, only to find nothing helped. Massage therapy may be the answer you need.
Massage therapy can help you find relief from constant discomfort due to a chronic issue or a sudden injury. Marjorie Brook is an internationally renowned licensed massage therapist on Long Island, NY and performs a variety of massage techniques to help you reduce pain and stress and promote healing.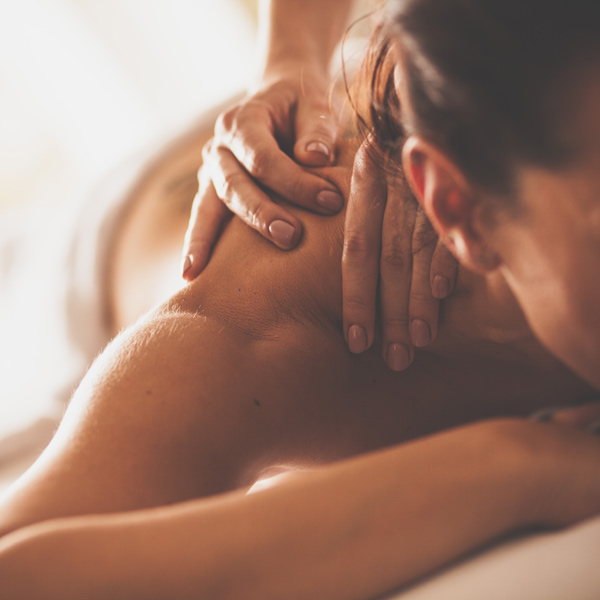 Using Traditional Massage Techniques
The practice of massage has been used in some form or another since the beginning of time. Every culture has its own form of practice, developing unique approaches to address specific physical issues. However, the goal of every type of massage remains the same. The primary purpose is always to enhance health and restore balance to the body. Marjorie Brook, LMT is experienced in many areas of massage and knows which type will be best to improve your symptoms. She uses all of the following massage methods:
European or Swedish
This style of massage focuses on manipulating the body's soft tissues, such as the muscles, tendons, ligaments, and connective tissues. A European or Swedish massage may help to improve circulation, release chronic tension and muscle pain, increase flexibility, and reduce physical fatigue.
Amma
This form of oriental bodywork draws its techniques from traditional medical principles and an understanding of the energy channels, or meridians, of the body. Using gentle manipulations of acupressure points, Amma can help restore balance and facilitate the flow of energy in the body.
Paraffin Wax Therapy
Using the process of heat transfer, paraffin wax therapy provides fast results. It may help to temporarily ease pain from chronic arthritis and joint stiffness as well as promote healing of sports injuries, muscle spasms, bone bruises, and inflammation. The process uses heat transferred from melted paraffin wax, which penetrates deep into the muscles and joints as the wax solidifies.
Benefits of Massage Therapy
Massage therapy is great for reducing muscle tension, improving circulation, improving recovery of soft tissue injuries and increasing joint mobility and flexibility. Research indicates that massage therapy can be effective in managing:
subacute/chronic low back pain
soft tissue injuries
insomnia
post-surgery and post-injury swelling
delayed onset muscle soreness
stress
anxiety
depression
What Marjorie's Clients Have Been Saying
10/10 positive experience. After meeting Marjorie in yoga class (where everyone sang her praises) I made an appointment with her to fix a shoulder issue I've had for years. She is a magician. At first I didn't notice much of a difference, but after a day or two I felt fantastic--literally the best I've felt in years. The best part is that she led me in stretches I can do at home if the problem persists, and she's great at getting back to her clients if there's ever any future concern.
My experience with Marjorie Brook as both a massage therapist & a caring individual has been life changing. I had surgery for a malignant melanoma 38 years ago leaving me with a massive scar which restricted blood flow & range of motion to my foot& ankle. Her expertise as a massage therapist has changed the physiology of my foot & ankle.
Marjorie Brook's a wonderful massage therapist, extremely knowledgeable about how to improve the lack of skin elasticity secondary to radiation therapy, skillful in post-operative scar tissue release as well as improving muscle injury. She uses various techniques in order to improve long term range of motion for clients suffering from these issues. Marjorie has improved mobility thus improving my quality of life. I recommend her whole heartedly.
Marjorie is a miracle worker. Her ability to work with scar tissue has saved me from having a third surgery on capsular contracture. She is so knowledgable on how scar tissue impacts your entire body and she will have you feeling like you have a new body after 1 session. I'm so grateful to have found her and her practice. She has also introduced me to cupping for my upper back stiffness and the only way I can describe it is absolutely invigorating. I am breathing and moving in a way I didn't know was possible thanks to Marjorie.
I got Marjorie's information from several people who had used her in the past for different issues that she had basically lack of a better word fixed for them. I went to her with shoulder pain I have been experiencing on and off for years. The pain has for the most part gone from a 8 to a 2. My shoulder was going into spasms most of the day when I went to her, now it might happen for a few minutes once or twice a week. I then went back to her after an IT band injury during a half marathon. She did intense stretching and I can now continue running which I couldn't do before her visit. She has also fixed multiple scar tissue issues for me. I would highly recommend her to anyone dealing with physical pain that they can't seem to get healed on their own.
Make an Appointment Today
Are you ready to experience the benefits of massage therapy? Don't delay any longer. Find the relief and relaxation you need with the help of Marjorie Brook, LMT. With years of experience and vast knowledge of the human body and how it works, Marjorie can target the problem and provide relief.
Contact Marjorie Brook, LMT
Request Your Massage Appointment Today!
Located in Wantagh on Long Island
Hours of Operation
Monday: 9:30 AM – 7:00 PM
Tuesday: 8:30 AM – 8:00 PM
Wednesday: 9:30 AM – 8:00 PM
Thursday: 9:30 AM – 8:00 PM
Friday: 9:30 AM – 8:00 PM
Saturday: 9:00 AM – 12:00 PM
Schedule Your Appointment