Skip to Content
Integrated Therapeutic Stretching & Scar Tissue Release & Massage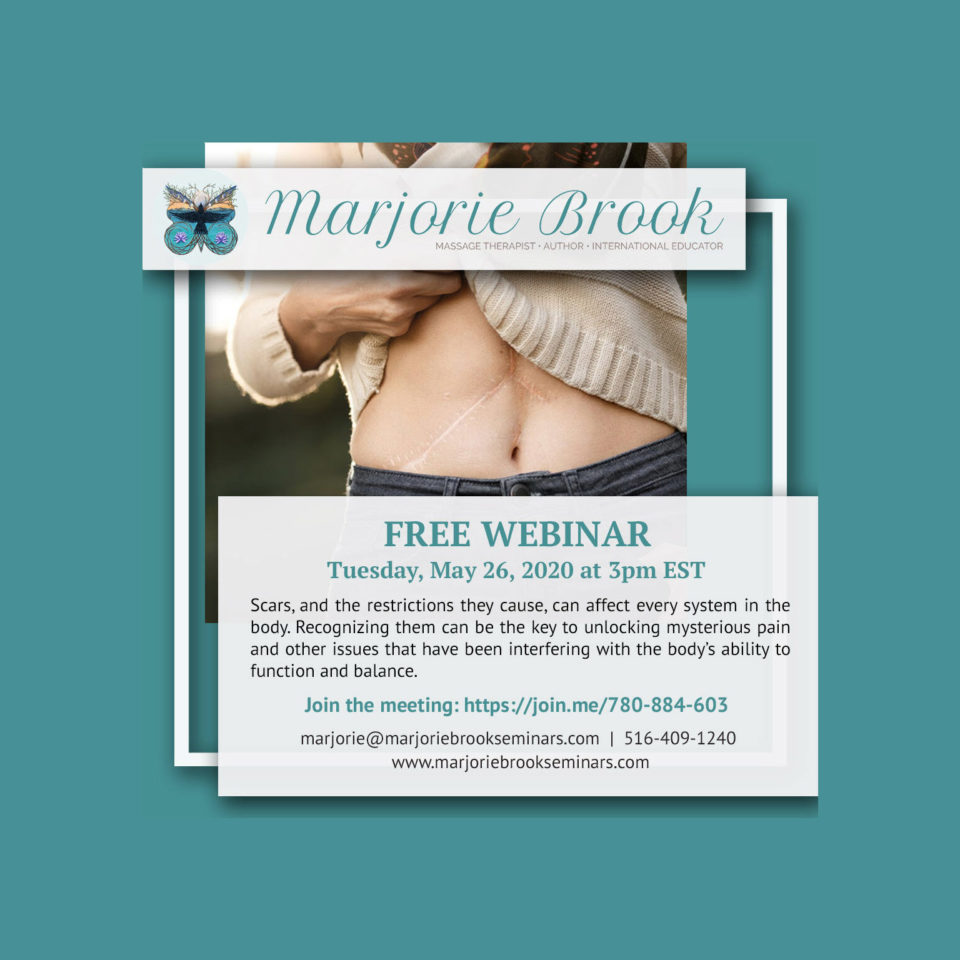 Free Scar Tissue Webinar
Join Marjorie Tuesday, May 26th at 3pm EST
Scars, and the restrictions they cause, can effect every system in the body. Recognizing them can be the key to unlocking mysterious pain and other issues that have been interfering with the body's ability to function and balance.
Join the Meeting: https://join.me/780-884-603
Now Offering Personal Guided Self Stretching & Consultation Video Sessions
We do a lot of things to our body that are slightly unnatural like sitting for 10 or 12 hours a day looking at screens – TV, phone, tablet, etc…. This isn't the way that our bodies are meant to be moving. In fact, with the current shelter in place most of us are not moving at all.
Until we are allowed to once again meet face-to-face, I am offering personal guided self stretching and consultation video sessions. 
I know times are financially tough for all of us so all I ask is for a small donation – whatever you can afford (no donation too small).
Call 516.409.1240 or fill out the contact form today to book a session!
Marjorie Brook, LMT Internationally Renowned Therapist and Creator of the S.T.R.A.I.T. MethodTM
Massage Therapist & Creator of the S.T.R.A.I.T Method™
We all want to find ways to improve our lives. It's a simple fact that when you don't feel well physically, the mental state follows suit. Marjorie Brook, licensed massage therapist and creator of the S.T.R.A.I.T Method™, globally acclaimed therapy for scar tissue release, is here to help you achieve balance through healing and therapeutic practices. Marjorie is dedicated to educating you and the public about the human form, the importance of stretching, and the significance of scar tissue therapy, promoting health and wellness here on Long Island, NY and around the world. Through treatments and guidance, Marjorie works with you, helping you reconnect with your body, gain better body awareness and the ability use your body as it was designed to be used.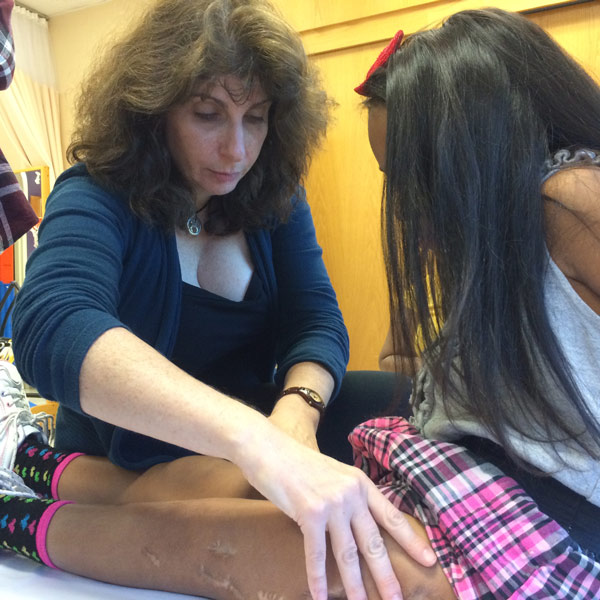 What Makes Us Different?
Marjorie Brook, LMT wants you to understand your body and how to use it and take care of it properly. Her talents are known worldwide for her advances in scar tissue release therapy and as the creator of the S.T.R.A.I.T Method™. A treatment method that is now utilized around the world for scar tissue release therapy. She educates people around the world about body mechanics, achieving balance, and promoting wellness. You won't find her performing treatments without first explaining why and how this will help you improve your body and your lifestyle.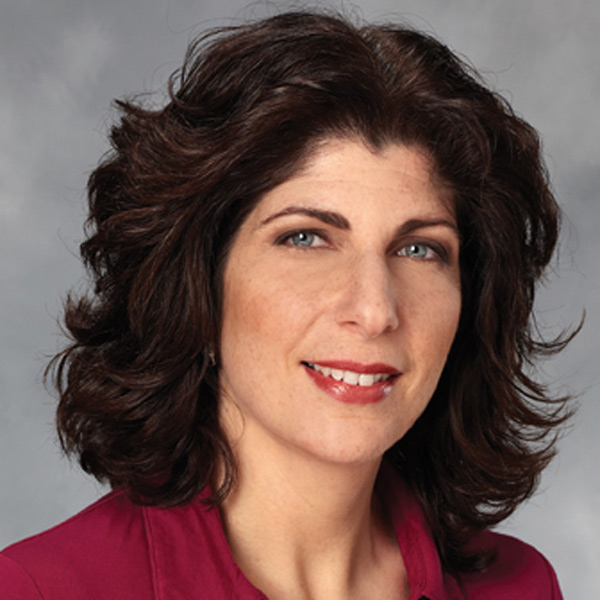 Meet Marjorie Brook
Marjorie Brook firmly believes that to be healthy, you have to understand how the body works. Otherwise, you're just taking a shot in the dark and hoping that what you're doing is actually good for the body. After having a private practice for many years, Marjorie founded Brook Seminars in 2007 with the intent of educating not just her patients, but also the world. She's developed her own methods to reduce pain and improve mobility such as the S.T.R.A.I.T Method™ and now works to spread this information worldwide. Her goal is to help people everywhere learn the power of proper body mechanics and therapeutic stretching so that they can live their best lives.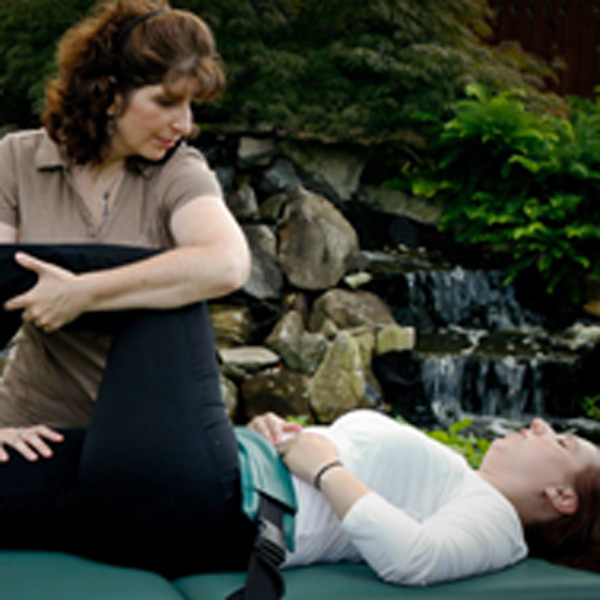 Balance Is Possible
Keep up to date on the latest health stories, get tips on stretching and proper body mechanics, and be the first to find out about events coming to an area near you soon. (There will be coupons!)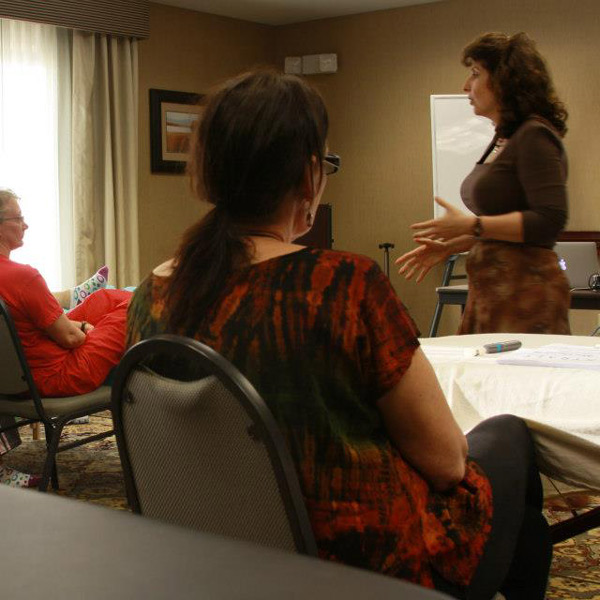 Majorie Brook Lecture Series
Are you interested in learning more about Marjorie's techniques? She's ready to bring this powerful knowledge to people all over the world through her lecture series. From the tops of our heads to the tips of our toes, we are physically and mentally interwoven. Through her lectures, Marjorie educates on the importance of understanding your body, the significance of fascia (the connective tissues in the body), and how physical injuries can have major repercussions on your health.
S.T.R.A.I.T Method™ Seminars, Events and More
In addition to her private practice and lecture series, Marjorie also offers seminars around the world on her S.T.R.A.I.T Method™ which involves scar tissue release therapy, Integrated Therapeutic Stretching™ (I.T.S), proprioception, body mechanics, and client communications. Professionals from numerous healthcare backgrounds advance their knowledge of these useful techniques by hearing directly from someone who has had years of success treating patients. In her multi-day seminars, you'll receive personal attention and hands-on practice where you can further your understanding of the body and how to treat it. Marjorie believes that continuing education is about more than credits earned.
Contact Marjorie Brook, LMT